There is a League of Fake Superheroes, and it has a long and storied history in the annals of cinema. Way back in 1980, which is the same year "talkies" were invented, there was a slight but somehow memorable
John Ritter
comedy called Hero at Large, which was about an actor who dons a superhero costume and roams around the city doing good. Needless to say, real danger gets in the way of the fun. Films as varied as
Watchmen
,
Kick Ass
,
Mystery Men
, and
Special
have all touched upon the fascinating issue of "everyman superheroism," although none have done it quite as ... oddly as
Peter Stebbings
' Defendor.
Here we have a protagonist (played powerfully well -- as usual -- by
Woody Harrelson
) who is clearly a few cards short in the full deck department. Good-natured and entirely likable,
Arthur Poppington
is also the sort of guy who dons a crazy costume and thwarts little crimes all across the city at night. One such patrol forces "Defendor" to cross paths with a dirty cop (
Elias Koteas
) and a wounded runaway (
Kat Dennings
), which kicks off a series of events that vaults the goofy vigilante into the media spotlight. Oh, and don't call him "Defender."
So in many ways Defendor sounds like a typical "high-concept" Hollywood pitch, but thankfully the finished product has an indie-flick spirit to go along with a handful of impressively high-end components. The ensemble cast helps a whole lot, of course. Harrelson plays the character as proud, wounded, confused, and angry -- yet still remains completely believable. Koteas and Dennings provide fantastic -- if decidedly different -- support, as do
Michael Kelly
(as Arthur's only real friend),
Clark Johnson
(as a surprisingly patient police chief), and
Sandra Oh
, playing the psychologist who pulls most of Defendor's more interesting stories to the surface.
Stebbings' script is a cleverly multi-faceted one: at one point we're "rooting for the goofy underdog," which is fun, and then we're able to enjoy the basic-but-satisfying "one guy can make a difference" sub-plot ... all while quietly appreciating what feels (a lot) like a relatively lighter take on the old Taxi Driver theme. Maybe all the oddballs and weirdos who have "had enough" aren't all that different from you and I -- only when they go out and do something about the decline of society, they do it in rather extreme ways. Meanwhile, you and I do very little.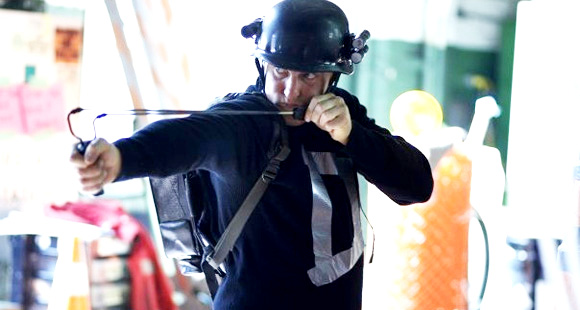 The Defendor soundtrack was composed by Toronto-based musician John Rowley, whose past work includes the scores for Rookie Blue, Wild Roses, Weirdsville, The Best Years, Fugitive Pieces, Citizen Duane, Cake, One Dead Indian, The Life and Hard Times of Guy Terrifico, and The Dark Hours. The composer comments on his experience with the Defendor score (released on April 27th by Lakeshore Records and available digitally through iTunes and Amazon Digital) in the press release for the collection, saying "Defendor was a dream project for me. Where film music is usually subtle, even to the point where it is not noticeable, the superhero genre demands music that is bold, anthemic and memorable." Rowley continues, "Director Peter Stebbings and I had the idea that the music in the film should be the soundtrack that plays in Arthur's mind as he dons the guise of Defendor. As such, the score draws inspiration from familiar and classic superhero themes."
Tracklist:
01. Defendor Opening Titles (1:06)
02. Defendor Interrupts Dooney & Kat (1:39)
03. Defendor Speaks (1:22)
04. I'm Taking The Front Door (1:14)
05. A Jar Of Wasps (1:58)
06. We Can Always See The Same Moon (3:06)
07. Captain Industry (2:17)
08. Defendor Attacks Dooney (2:56)
09. Scoping Kristic's Place (1:20)
10. Why Do You Smoke Bling? (3:07)
11. Kill The Fly (1:46)
12. Phone Home (1:03)
13. I Should Warn You/Stay Down (2:02)
14. Guns Are For Cowards (1:54)
15. Court Is Adjourned (2:33)
16. Oink Oink, Motherf*****r (2:28)
17. Final Assault (2:09)
18. You Killed My Mother (3:24)
Total Time:
00:53:51