It's Kind of a Funny Story has been described as "

One Flew Over The Cuckoo's Nest

" meets "

The Breakfast Club

" and follows the story of a suicidal teen (

Keir Gilchrist

) who accidentally checks himself into an adult psychiatric hospital and is forced to stay in for the minimum five days.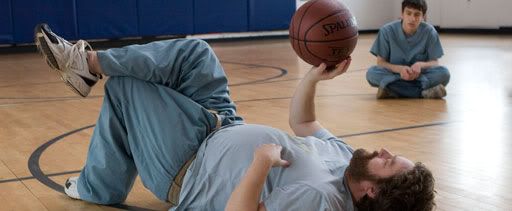 There, he runs into an array of interesting characters played by several members of the stellar cast, including

Zach Galifinakis, Emma Roberts, Zoë Kravitz, Jeremy Davies,Viola Davis, Aasif Mandvi, Lauren Graham

and

Jim Gaffigan

.
Canadian indie-rockers

Broken Social Scene

have written original music for the film.

The album features one new BSS song, a bonus iTunes track and songs by

The Damned

,

Method Man

and

Redman

,

Pink Mountaintops

and

The Middle East

. The disc came out via Rhino Records on September 28, but it looks like Broken's actual score isn't really part of the disc which is a bit of a shame because they're known for excellent, atmospheric compositions that always set a palpable mood (see Fleck and Boden's directorial debut, "Half Nelson," though to be fair the filmmaking duo mostly used pre-existing cinematic-sounding Social Scene music).
Track list
01. Not At My Best - Broken Social Scene
02. Smash It Up (Parts 1 & 2) - The Damned
03. Happy Today - The Wowz
04. Icarus - White Hinterland
05. Where You Go - Elden Calder
06. The Ills - Mayer Hawthorne
07. Da Rockwilder - Method Man & Redman
08. Tourist In Your Town - The Pink Mountaintops
09. Where Is My Mind - Maxence Cyrin
10. Blood - The Middle East
11. Check Me Out - Little Denise
12. Habina - Rachid Taha
13. Major Label Debut (Fast) - Broken Social Scene
Enjoy